The Bangladeshi multinational electronics brand Walton has changed its official Facebook page name.
Although the Facebook page started its journey as 'Waltonbd' but the new name is 'WALTON' from today.
Earlier, the country's electronics giant Walton launched its Facebook page in 2011. The page has over 18 lakh of followers.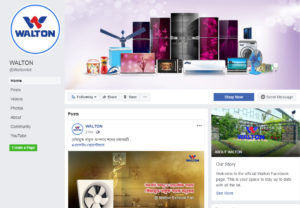 Following the issue, Walton Deputy Assistant Director Sheikh Tofazzal Hossain Sohel said, "We are pleased to announce that our official page 'Waltonbd' will be termed as 'WALTON'. The name is proportionate to the main name of the company. Following this, the relation between customers and the Walton will be strengthen."
Besides, 'Walton' is going to get approval of Facebook as a verified page soon.