OPPO Reno8 T First Sale Exceeds by 400%, OPPO's newest addition to its Reno series, the portrait expert – OPPO Reno8 T has hit the markets!
For all the OPPO fans out there, this incredible device is available for purchase across all OPPO stores throughout the country.
All the pre-order customers can now collect their OPPO Reno8 T. Considering OPPO Reno8 T First Sale keeping the record of offering the best photography experience along with a unique design that stands out from the crowd, this device has already been garnering immense love from tech and photography enthusiasts.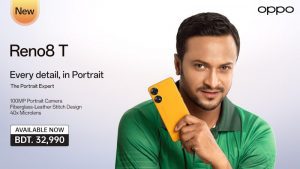 Hence, first sale of this much-loved device began with a whopping 400% increase in sales than that of its predecessor, Reno6!
Equipped with the latest hardware updates and the newest portrait imaging features, including the brand-new Ultra-Clear Imaging System — the recently launched OPPO Reno8 T brings the most extraordinary portrait photography experiences.
The new OPPO Reno8 T features an unprecedented 100MP Portrait Camera, a 2MP depth camera, an upgraded 40x Microlens, and a 32MP (f/2.4) front camera to easily capture images with more style and artistic flair. 
OPPO Reno8 T's First Sale started
The 100MP portrait camera enables exquisite image clarity, equipping users with editing and cropping abilities for unparalleled sharpness. Secondary cropping of these large 100MP images allows even wide panoramas to be expanded to reveal crisp portrait-like images with all the details.
Adding to that, with AI Portrait Super Resolution, users can harness the power of AI to bring extra detail and clarity to portrait images taken in dark situations.
Moreover, it also comes with a Flash Snapshot feature which shoots multi-frame bursts of ultra-short exposure photos that ensure crystal clear images even when subjects are moving.
OPPO Reno8 T further features Selfie HDR that captures selfies with accurate exposure and details that make faces appear natural and clear alongside bright and detailed backgrounds.
Moreover, AI Portrait Retouching recognizes 393 key facial feature points to deliver natural beautification effects in all portrait photos and videos.
Using Bokeh Flare Portrait on OPPO Reno8 T adds a natural bokeh lens flare effect to the background of portrait images, just like those taken on high-end DSLR cameras. As a cherry on top, OPPO Reno8 T's 40x Microlens offers a new perspective on the surrounding world.
Moreover, OPPO Reno8 T Sunset Orange color features stitch design on Fiberglass-Leather and uses a new technique to enable the removal of plastic edging, resulting in a cover that is lighter and thinner than traditional leather-like battery covers, giving off a flagship feel.
This design creates a premium experience through a unified design brought by more rounded edges without sacrificing durability; while in the Starry Black color of OPPO Reno8 T, OPPO Glow Technique gives the handset a silky-smooth touch.
Meanwhile, OPPO Orbit Light feature offers five different notification settings that can be personalized with different colors. Flaunting an Ultra-Slim Body Design OPPO Reno8 T's elegant look is suitable for everyone!
Moreover, with the upgraded ColorOS 13, 90Hz refresh rate, 48-Month Fluency Protection and 5,000mAh battery with 33W SUPERVOOC, the device ensures a unique, powerful and seamless smartphone experience. 
Owing to such lucrative and handy features, OPPO Reno8 T has been garnering lots of love from its customers.
Available in two colors of Sunset Orange and Starry Black, this incredible device can be purchased at only BDT 32,990. Hurry up and grab your one from OPPO!