The Bangladeshi multinational brand Walton has commenced the Season-4 of its nationwide Digital Campaign on the occasion of the month-long 24th Dhaka International Trade Fair- 2019, the country's biggest trade show started at Sher-e-Bangla Nagar, Agargaon in the capital today (January 9). Under the season-4, Walton announced various sorts of benefits for those customers who will registrar their products purchased from Walton Pavilion in DITF-19 or any outlets across the country.
This time, customers will enjoy free motorcycles, fridges, televisions, air conditioners, laptops and others sorts of electronics and electrical appliances or sure cash vouchers, ranging from Tk 200 to Tk 1 lakh.
The customers of Walton fridge, television, air conditioner, laptop, computer, washing machine, generator and microwave oven will be eligible for the season-4's offers. These benefits were announced at the declaration programme of "Walton Digital Campaign Season-4" at the conference room of Walton Corporate Office in the capital on Tuesday (January 8, 2019).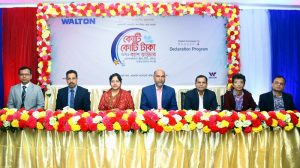 The function was addressed, among others, by Executive Directors Eva Rizwana, Amdadul Haque Sarker, Nazrul Islam Sarker, SM Zahid Hasan, Md. Rayhan and Md. Tavir Rahman, Deputy Executive Directors Uday and Ariful Ambia.
In the function, the officials informed that last year Walton conducted three seasons of its 'Digital Campaign' across the country. These seasons of the campaign received sound responses from the customers. During season-1, several customers got free return air tickets of America and Russia. In addition, thousands of customers got various sorts of products like brand new cars, motorcycles, fridges, TVs, ACs etc. through purchasing Walton products during the campaign's season 2 and 3.
Considering the customers' eagerness to registrar their products during the campaign's last seasons as well as the advent of month-long DITF-19, Walton started the season-4 version of the campaign.
Ariful Ambia, deputy executive director of Walton Group, said, details of the customers and their purchased products including the name of customer, contact number and the model number of the product are being stored on a server through the product's registration. As a result, he said the customers can seek post sales services browsing the Waltondeveloped web page http://support.waltonbd.com and also they can see the status of the product from online.
Highlights:
 Taka crores of cash vouchers and free products
 Customer from all over country will enjoy the benefits
 Online customers will get the same benefit
 Sure cash vouchers up to Tk 1 lakh.
 Free products like motorcycle, fridge, TV, AC, laptop etc.
 Customer database for providing swift post sales services