"LIVE order tracking, scheduling order and quick delivery are key features of the service for consumers"
Uber Eats – the food delivery app by ride-sharing company Uber, will be available in Dhaka starting 12 noon, April 30. Connecting people to the food they love, Uber Eats is an on-demand food delivery app that helps bring food to customers in a convenient and reliable manner from restaurants in their neighbourhood.
With over 150 restaurant partners on board in the launch phase, foodies in Dhaka will be able to order food from their favorite restaurants such as Sushi Samurai, Pizza Guy, Cheez, Tehari Avenue, Salam's Kitchen, Sultan's Dine, Madchef and Chillox and many more at the click of a button, within the comfort of their home. In the launch phase, Uber Eats will be available for consumers across key neighbourhoods in the city such as Gulshan, Banani and Baridhara.
"The introduction of Uber Eats in Dhaka is a major step towards Uber's commitment to Bangladesh. With the technology that Uber is known for, we aim to create a marketplace that is bringing value to our consumers, restaurant partners and delivery partners. For consumers it is the ease of ordering their favourite food with just a few taps. For restaurant partners Uber Eats not only gets their food across to consumers but also empowers them with actionable data and insights to improve business efficiency. We are excited about the potential Bangladesh holds and look forward to a successful innings here," said Bhavik Rathod – Head of Uber Eats India & South Asia.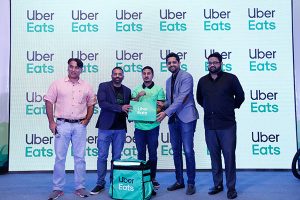 "Everyone in Dhaka city is enthusiastic about food and it is what binds people together. With the coming of Uber Eats in the city, we are confident that businesses like ours will surface beyond physical boundaries and achieve higher efficiencies. We are confident that our dishes will be delivered at Uber speed to consumers. We look forward to a great partnership with Uber Eats," – said Labib Tarafdar, Partner – Madchef & Cheez.
The Uber Eats app is separate to the Uber app that people use to request a ride. The app has been built specifically to make food delivery as seamless as possible, at the tap of a button.
Here are some key features that differentiates Uber Eats and makes it more reliable:
For consumers – Uber Eats helps users discover new foods and enjoy more of what their cities have to offer. Uber Eats app comes with the ability to schedule an order ahead of time. Additionally, from ordering to delivery, Uber Eats lets users live track their order through every step of the process so they can have the confidence of their order will be reliably delivered to their specific location.
For Restaurant Partners – Uber Eats will help local restaurants reach new customers and deliver their food fast, efficiently and reliably. The platform offers restaurants access to actionable data to help improve their business and insights about their service quality, customer satisfaction, and sales helping them to make specific adjustments to improve their food and service.
For Delivery Partners – Uber Eats offers its delivery partners a flexible and reliable income opportunity on a schedule that works for them. Delivery partners work when they want, and deliver food on a bike.
Getting started with Uber Eats is easy:
1. Download the Uber Eats app
2. Pick delivery location – Input your address where you would like your meal delivered
3. Find the perfect meal – Browse local restaurants or search by cuisine type, and sort according to price, dietary needs, and speed, to find exactly what your taste buds are asking for
4. Place your order – Pick the items you want right away or schedule your order to arrive at your convenience
5. Make the payment- Pay through credit card or cash on delivery
6. Track the progress of your delivery – Get updates as your order is prepared and track real-time as the order gets delivered to your destination
As a launch offer, consumers can avail of 50% off the first 2 orders with One taka delivery fee.