With the theme "Creating Human Connection in the age of Digital", Bangladesh Brand Forum (BBF) has held the 8th iteration of its flagship initiative BBF Seminar on 27 th April. Presented by Beximco, BBF Seminar 2019 was powered by American International University-Bangladesh (AIUB), organized in association with Dhaka Bank Limited.
The event took place at the Grand Ballroom of Hotel Le Méridien, Dhaka. Around 300 corporate
professionals attended the seminar.
27 th April also marked the 12th year anniversary of Bangladesh Brand Forum. A grand celebration followed the seminar, at the same venue. Business leaders and leading corporate professionals attended the celebration.
Inaugurating the seminar Mr. Shariful Islam, Founder & Managing Director of Bangladesh Brand Forum stressed, "Our future will be anything but what we can imagine or predict. Question is how we can prepare for such a future. Bangladesh Brand Forum's next phase of journey will be to guide and shape our thinking and skills around that."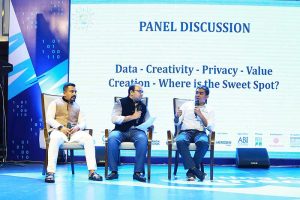 Bangladesh Brand Forum's Director Nazia Andaleeb Preema and Chief Advisor Professor SyedFerhat Anwar also shared their valuable thoughts on the 12 th year anniversary celebration.
Starting in 2008, BBF seminar has been sharing global insights among the local business leaders through keynotes, panel discussions, and interactive sessions.
BBF Seminar 2019 has consisted of 3 Keynote Sessions, 5 Panel Discussions, 2 Insight Sessions, and 1 Breakout Session. A total of 23 speakers talked across different segments of the seminar.
Each participant of the seminar has received one paperback copy of the book "The 12 Powers
of a Marketing Leader".
The keynote speakers for the seminar were – Dr. Prem N Shamdasani, Associate Professor of Marketing and Academic Director (Executive MBA) National University of Singapore; Brian Collins, Ex-Chairman & CCO, Brand & Innovation, Ogilvy & Mather Worldwide, and CCO & Founder of Collins, which is AdAge Design Agency of the year 2019; and Thomas Barta, Dean of McKinsey Leadership Program and Columnist for Forbes Marketing Week. Thomas is also the author of a bestselling book – "The 12 Powers of a Marketing Leader".
Five intriguing panel discussions took place during the seminar. Throughout the panel discussions, several issues were discussed such as – the digital transformation of brands;
whether the brands should focus on purpose or positioning in order to place themselves in the minds of the consumers; finding the sweetest spot among data, creativity, privacy and value creation; short-term and long-term debate in the era of now moment; and the importance of brands in the sustainability battle.