The Change Makers team is choosing the ecommerce industry with a call for positive change. Shafquat Haider, a well-known name in the IT industry, submitted his nomination papers to participate in the e-CAB election from this team.
Shafqat Haider has been working successfully in various fields of information technology for nearly 45 years. He is a founding member of BCS and BASIS. He has served in many big organizations, domestic and foreign. He works as an advisor to BCS, BACCO and e-CAB. He has served five times as a director for FBCCI, the largest business trade body in Bangladesh.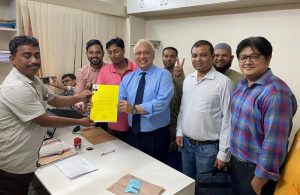 He is serving as chairman of the Council for Communication and IT of the SAARC Chamber of Commerce and Industry. He is the Chairman of the ICT Industry Skills Council Bangladesh, a member of the Governing Board of the National Skills Development Authority (NSDA) in the Prime Minister's Office, the Digital Trade Network in Geneva, the Intra Commonwealth SME Association (ICSA), the Vice-Chair of the UK Advisory Board and the Bangladeshi Ambassador of the World Union of SMEs.
Shafquat Haider said he wants to play a role in establishing e-CAB as a strong organization for various stakeholders, including the government, in order to build the confidence of the customers in the ecommerce sector.