Itel is already a very popular name in the market of entry level smartphones. Based on the demand of their customers, now they have launched a Dual Standby 4G smartphone in a very affordable price, named A46.
The new A46 has all the features to satisfy the customers, following the great success of all the other series of itel smartphones till now. A46 enters the 4G smartphone market with it's Dual Standby 4G network feature. So, users will get Standby Dual 4G connection in both their sims while using this smartphone. It has 2GB Ram, 16GB Rom and 1.6 Gigahertz Octa-Core Processor which will give the user outstanding performance.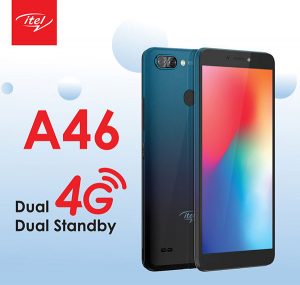 The phone also has 8MP Dual AI Rear Camera for helping in capturing amazing images. itelis renownedfor providing outstanding technological features to his customers in reasonable price, following this A46 also brings Face Unlock Feature, Customized Multi-functional Finger Print sensor and many more amazing aspects. To enjoy easy internet browsing or any other entertainment media, it has 5.5 Inch HD+ IPS Fullscreen Display.It has thelatest version Android 9 (Pie) as operating System. With all the features, the price of this phone has been decided to be 6,990/- only, which makes it a perfect choice for people who are looking for budget friendly 4G handsets.
About this new model, CEO of Transsion Bangladesh, Rezwanul Haque says "We are bringing this Dual Standby 4G phone keeping in mind the demand of 4G smartphones in the market. This affordable phone has 8MP Dual AI camera, Face Unlock Feature, Multi- functional Fingerprint sensor and many other great aspects that's very difficult to find in this price range. Also, due to its attractive design, we are confident that itel A46 will easily be popular among the customers."
With it's Dual Standby 4G network, Dual AI camera, 2GB Ram and all other cool features, A46 is expected to create a good buzz in the market.