The country's electronics giant 'Walton' has announced a fresh offer for the customers of its wide ranges of refrigerators and freezers centering the upcoming Eid-ul-Azha, the largest religious festivals of the Muslim community.
Under this offer, everyday customers of any models of Walton refrigerators and freezers may get Tk 1 million (10 lakh) by registering their newly purchased fridges from Walton plaza or distributor outlet across the country under the ongoing Digital Campaign season 4.
Moreover, customers may get crores of cash vouchers or thousands of electronics and electrical appliances. The offer will be effective from July 1 and to be continued till the Eid-ul-Azha.
The offer was declared at a programme at the conference room of the Walton Corporate Office in the capital on Saturday (June 29, 2019).
The programme was also attended by Walton Group's Executive Directors Eva Rezwana, Amdadul Haque Sarker, Md Nazrul Islam Sarker, Humayun Kabir, SM Zahid Hasan, Abul Bashar Hawlader, Mohammad Rayhan and Ariful Ambia, Deputy Executive Directors Firoj Alam and Shahjada Salim, Media Adviser Enayet Ferdous.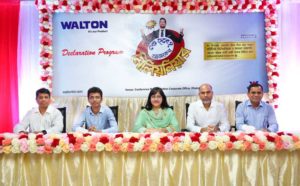 Walton is conducting 'Digital Campaign' across the country to accelerate the initiative of building customer database for delivering online based swift and best after sales service. The details of the customers and their purchased products including the name of customer, contact number and the model number of the product purchased are being stored on a server through the digital registration. As a result, customers can avail the service from any Walton service center any time, even if the warranty card is lost.
Earlier, Walton conducted three more seasons of Digital Campaign in which customers got brand new cars, motorcycles, refrigerators, TVs, various sorts of electronics and electrical appliances along with sure cash back up to Tk 1 lakh. The new offer has been included to the ongoing campaign after witnessing huge response from customers across the country.
Golam Murshed, chief executive officer of Walton Fridge, said: this year Walton targeted to sell out two million units of fridges in the domestic market. In the first five months of the current year, he said, one million units have been sold. Centering the Eid-ul-Azha or Qurbani Eid, they have a target of selling more one million units of fridges during the months of June and July of this year, he noted and hoped that the target of this year will be achieved by the Qurbani Eid.
Shahiduzzaman Rana, product Manager of Walton fridge, said, Walton released more than hundred models of frost and non-frost refrigerators, freezers and beverage coolers in the domestic market. Among these fridges, BSTI's highest energy rating 'Five Star' certificated, inverter, glass door and side by side 563 litter refrigerators are getting huge responses from the customers.