Walton Hi-Tech Industries Limited (WHIL), a sister concern of country's electronics giant Walton Group, has organized a Road Show for eligible investors to raise a fund of BDT 100 crore from capital market through initial public offering (IPO) under the book building method.
The Road Show was held at Walton Corporate Office in the capital's Bashudhara Residential Area on Tuesday evening (15 January 2019).
The Road Show highlighted that as of July to September of the current fiscal year 2018-19, the company registered its EPS (Earning Per Share) at Tk 10.59 and NAV (Net Asset Value) at Tk 208 while its Retained Earnings stood at Tk 2,798.13 crore and Net Operating Cash Flow as per share posted Tk 17.20. The authorized and paid up capital of the company are Tk 600 crore and Tk 300 crore respectively.
The raised fund will be utilized in factory expansion, modernization, research and development, repayment of partial bank loans and meeting IPO expenses.
AAA Finance and Investment Limited has been appointed as manager to the issue of the company while Prime Bank Investment Limited has been appointed as registrar to the issue.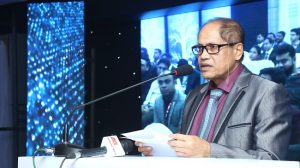 Walton Hi-Tech Industries Limited Chairman SM Nurul Alam Rezvi delivered the welcome address in the Road Show program while Managing Director SM Ashraful Alam, Director SM Mahbubul Alam, Independent Director Md. Farhad Hussain FCA, AAA Finance and Investment Limited Chairman Khaja Arif, Prime Bank Investment Limited Managing Director and Chief Executive Officer Dr. Md Tabarak Hossain Bhuyian, among others, addressed the event.
Merchant Bankers and Portfolio Managers, Asset Management Companies, Mutual Funds and Collective Investment Scheme, Stock Dealers, Alternative Investment Fund Managers, representatives from banks, financial institution, insurance companies, alternative investment funds, and other eligible investors along with the top officials from Stock Exchanges and Bangladesh Securities and Exchange Commission were also present in the Road Show.