The Bangladesh's multinational electronics brand 'Walton` made fridges have been getting sound response in the Lebanese market for its world-class quality, lucrative design and affordable rates. The local brand shipped out two shipments of its produced huge power efficient inverter fridges to the Middle Eastern country Lebanon under the 'OEM (Original Equipment Manufacturer).
Walton authorities said, Walton made 'Made in Bangladesh' labelled products have been exporting to different nations of Asia, Middle East and Africa regions. Now, they planned to export Bangladesh made electronics and electrical appliances to the markets of developed countries like Australia, America and Europe.
To this extent, they are going to manufacture the world's latest technologies global models fridges at Walton Hi-Tech Industries Limited at Chandra in Gazipur. They added advanced technologies machineries and equipment to various departments like production, quality control, research and development department. In addition, they are preparing a road map with long-term working plans to be one of the best global players in the international electronics markets.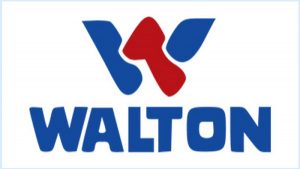 Edward Kim, President of Walton's International Business Unit (IBU) said, "We greatly focused on making a strong foot in the global market through setting up a target of bagging US$ 1 billion earnings from the export of various sorts of electronics and electrical appliances and spare parts."
To meet this target, he said that they are trying to nurture brand presence in the international market through sustainable partnership with customers while focusing on OEM (Original Equipment Manufacturer) business to drive the business volume and also to enhance our product quality management which is an assurance to customers.
Some uniqueness, including products of state-of-the art technologies, world-class quality, wide ranges of designs and colours, and price competitiveness, helped Walton made fridges expand its global market rapidly, he noted.
Uday Hakim, deputy executive director of Walton Group, said, they focused on expanding the global market and strengthening its international business unit through exporting products under its own products side by side OEM products.
"Considering the future market potentials of electronics, Walton is preparing a road map to become one of the best brands in global market," he added.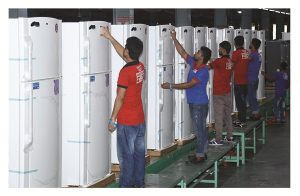 Abdur Rouf, representative of Walton IBU in the Europe and the American region, said, Walton is setting up global product research and development centers and branch offices in many countries including Germany, United Kingdom, China, UAE, Taiwan and Thailand, he said adding that they are recruiting global export talents.
Walton is taking part in various international business seminars and fairs in abroad with the aim of expanding the export market. Recently, Walton participated in Canton Fair in China, Lagos Fair in Nigeria, Electronics Fair in UAE, Chillventa Exhibition in Germany, he said. "We have intended to participate one of the largest fairs of electronics and home appliances named 'IFA Fair' in Berlin, Germany and 'CSE Fair' in Las Vegas," he noted.