Bangladeshi multinational IOT products manufacturer 'Walton' declared new offer of attractive cashback on buying its air conditioners and posting selfies with the brought AC on Facebook and setting caller tune as well.
Customers who buy any Walton AC, get it registered on digital campaign and then post a selfie or picture with the AC on their Facebook and set it as profile picture, they will get a cashback of Tk 500. If they set Walton AC's caller tune on their mobile phone, they will also get another Tk 500, says Walton's Deputy Operative Director Mofizur Rahman.
While posting the photo on Facebook and setting the caller tune, the customers have to write one of the few specific sentences describing the photos. After that, a screenshot of the post will have to send to 01686694797 through Viber, WhatsApp or Imo. The customers then will get Tk 500 cashback which they can instantly collect from the seller.
Meanwhile, there is a chance of getting Tk 500 cashback more by setting the caller tune of Walton ACs on cell phones. Grameenphone subscribers can set up caller tune by dialing *24000*301# by pressing 2; Airtel subscribers to dial *788*572# while Robi subscribers will can set the caller tune by dialing *8466*132#.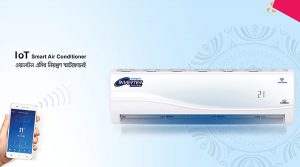 Walton authorities said that the customers have to follow both mentioned procedures to get Tk 1000 cashback immediately after buying Walton AC. Following any one of the instructions, the buyers will get a cashback of Tk 500 only.
Besides, the company offers more benefits on ACs. Customers also get free installation service with chance to receive one-year free electricity bill. Moreover, they can avail 25 percent discount on buying new Walton ACs in exchange of their old one of any brands. Besides, customers can also get laptops, refrigerators, TVs and home and electrical appliances including cash vouchers for the maximum Tk 100,000 under the ongoing Digital Campaign Season-4. Customers can buy any Walton AC on 36-month easy installment facility.
Currently, 17 models of Walton ACs are available in local market. 3 models of them weighing 1- ton and priced at Tk 35,900 and Tk 36,900. 8 model's 1.5-ton AC prices between 45,900 to Tk 65,000. The prices of 2-ton 6 models of Walton ACs are between Tk 56,900 to Tk 76,400.
Remarkably, Walton released IOT-based smart ACs in the market which is fully controllable by voice commands using mobile phones. That means users can increase, reduce, turn on or off the smart AC's air-conditioning systems without remote control with the help of Voice Control, or Amazon Echo.
They can also monitor daily or monthly billing information, low-high voltage and information over compressor overloading.
Walton provides 6-month replacement guarantee along with 10-year guarantee on Inverter AC compressors.