Grameenphone launches a nationwide call for applications from startups to join its program called GP Accelerator 2.0 at a press conference at the Pan Pacific Sonargaon today. Zunaid Ahmed Palak, State Minister, ICT Division, Ministry of Post, Telecommunication and Information Ministry has made the announcement at the event as the Chief Guest. GP CEO Michael Foley along with Yasir Azman, Deputy CEO & CMO, Grameenphone; Solaiman Alam, Head of Digital, Grameenphone; Talat Kamal, Director, Communications, Grameenphone and Minhaz Anwar, Head of startup Ecosystem, Grameenphone were present for the event to present the details of the program.
This year, with the launch of Grameenphone Accelerator 2.0, Grameenphone takes a step further to reach out to tech innovators and startups across the country and help them transform their ideas to minimum viable products through a pre-accelerator. Tech innovators and startups from across the country can register online at https://www.grameenphone.com/gp-accelerator-2.0 . At the pre-acceleration round 25 selected startups will go through product research, design, validation and company formation. The deadline for pre-acceleration round is until May 15, 2019.
More advanced startups can apply directly for the accelerator program until July 15, 2019 where a four and half month's training will be provided by expert mentors from home and abroad. GPA 2.0 is a collaborative program where investors and key startup ecosystem players are all are coming together to design the curriculum and deliver it. The startups accepted for the accelerator program will receive go to market support, scale and growth boot camps conducted by expert global mentors, workspace at GP house, access to GP distribution channels and opportunity to pitch to local and global investors.
Since the launch of GP Accelerator in 2015, GP Accelerator has been Grameenphone's key initiative to help early stage tech startups through a cohort-based, mentor-led and curriculum-driven open innovation platform. So far, 19 startups have launched their services or products from a total of 26 participating startups.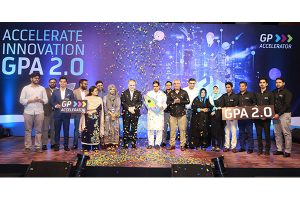 Mr. Zunaid Ahmed Palak, MP, State Minister of ICTD, Ministry of Post, Telecommunication and Information Technology said, "As always, this government is one hundred percent committed to ensure the considerable growth in ICT sector through increasing the overall business potentials which will lead us to an eventual powerful economy. GP Accelerator is a great example of an enabler that has produced promising results with its startups. I would like to wish the participants best of luck."
Grameenphone CEO Michael Foley stated, "As one of the most responsible entities for building digital ecosystem in Bangladesh, Grameenphone works together with the government in every possible endeavor. We consider this platform as a very powerful tool to inspire youths to take the country forward and Grameenphone is happy to be a partner in this journey. New businesses and business models are entering our market at breakneck speed. We need young Bangladeshi tech entrepreneurs as much as they need us."
Deputy CEO and CMO of Grameenphone Yasir Azman said, "To unleash the true potential of Digital Bangladesh we need innovation and engagement from our youth. While building its high-speed data network all over the country, Grameenphone also created a platform for the youth through an accelerator program. Through this program innovative solutions to problems were discussed and developed through mentorship and access to investors. As one the ecosystem players Grameenphone is committed to facilitate innovation and engage the youth meaningfully."
Minhaz Anwar, Head of StartUp Ecosystem at Grameenphone said, "GPA 2.0 is a great leap forward towards building the Bangladesh StartUp Ecosystem quite a few notches up. It is truly collaborative where the program serves the purposes of the partner entities well and therefore, securing a long-term future for