Dhamakashopping.com and Disabled Rehabilitation and Research Associations (DRRA) reiterates their commitment to stand by the disabled people of the country. To affirm their commitment, the two organizations signed an agreement recently over a virtual meeting today. As per the agreement, Dhamaka will make a grant of Tk. 10 Lakh to DRRA and will be delivering food to the homes of 1500 disabled people for 15 days during the pandemic.
Honourable Minister for Planning of the Government of the People's Republic of Bangladesh Mr MA Mannan presided over the ceremony as the Chief. He lauded the initiative of Dhamaka and DRRA and said that this initiative is a reflection of Digital Bangladesh through mobile devices. "People with disabilities can use this app to change their destiny. I hope that Dhamaka and DRRA will work together to improve the quality of the disabled in the future as well", he said.
Also present on the occasion were S Md Jashimuddin Chisty, Managing Director, of DhamakaShopping.com and Sirajul Islam Rana, Chief Operating Officer of DhamakaShopping.com. Present on behalf of DRRA were Farida Yesmin, Executive Director of DRRA and Swapna Reza, Advisor of DRRA.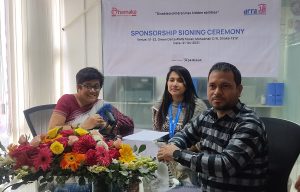 About the agreement, S Md Jashimuddin Chisty said that DRRA is working for the welfare of the disabled and vulnerable. "From now on, Dhamaka will too stand by the marginalized disabled in collaboration with DRRA. Through Dhamaka Entrepreneur App, rural and marginalized entrepreneurs with disabilities can easily do business."
"We want to stand by the disabled through DRRA," said Sirajul Islam Rana. He continued, "After the initial support that we committed, we will provide opportunities for the disabled to become entrepreneurs through a mobile app. We hope that in the coming days we will have the support of the government."