Dell Technologies Bangladesh, the local Liaison Office of Dell Global, one of the world's leading suppliers of technology solutions, held its annual Dell Technologies Award 2019 at the Westin Hotel recently.
The event was attended by regional representatives from Dell including Anothai Wettayakorn – Vice President of Asia Emerging Markets and South Asia Consumer and Small Business, Chris Papa – Channel Director, Dell Technologies/Channels, Asia Emerging Market, Mohammad Atiqur Rahman, Country Manager, Dell Technologies Bangladesh and Dell Bangladesh Team.
The Dell Technologies Awards recognizes and rewards the outstanding performances of Dell Partners during the financial year 2019 (1st February 2018 to 31st January 2019) in both Consumer and Commercial segments in the markets of Bangladesh. The event also sets the stage for the company to review the company's overall performances during FY19 and share market insights and future plans with the audience for FY20 and beyond.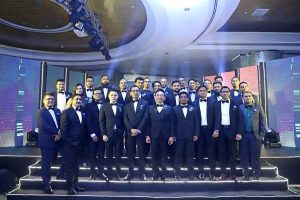 A total of 12 awards were handed out to the best performing partners during the event. Some of the winners of the key awards of the night included Star Tech & Engineering Ltd. – Best MFT Partner Commercial of the Year FY19, Smart Technologies (BD) Ltd. – Best Partner Client Solution Group of the Year FY19, B Trac Technologies Ltd. – Best Distributor Enterprise of the Year FY19, Singer Bangladesh Ltd. – Best Partner Consumer of the year FY19.
Addressing the audience, Anothai Wettayakorn stated, "Dell Bangladesh has continued to make great strides in one of the key markets in the Asia Pacific region. It is clear that all the partners gathered here today have played a significant role in helping transform local businesses and guide them towards a better, more profitable future. Dell products and solutions are engineered to take our clients' businesses to the next level. Along these lines, it is imperative that each and every one of us continuously improve and strive for excellence so that the FY20 will be another successful year for all of us."