A women entrepreneur in Dhaka named 'Tania Mesbah, has been awarded a brand new car by purchasing 49-inch LED television of Walton under the Eid offer of its nationwide ongoing digital campaign season 4.
Attending as the chief guest, Parliament Member for Dhaka-17 Akbar Hossain Khan Pathan, who is popularly known as film actor Faruk, handed over the key of the new car to Tania at a "Car Hand Over Ceremony," organized by Walton Plaza at Mirpur Kachukhet in the capital on Sunday last (May 26, 2019).
The programme was attended, among others, by Walton Group's Executive Directors Eva Rezwana, SM Zahid Hasan, Humayun Kabir and Mohammad Rayhan, TV Product Manager Tanvir Mahmud Shuvo, TV Service Development Dept's Coordinator Maruf Hasan, Media Adviser Enayet Ferdous, Programmes Coordinator SK Tofazzal Hossain Sohel and some other local people.
Centering the Muslim community's one of the largest religious festivals in Bangladesh Eid-ul-Fitr, Walton is offering new car, sure cash vouchers up to TK 1 lakh or various sorts of free products like refrigerator, television, air conditioner etc. under the digital campaign season 4.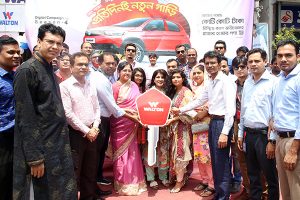 As per the offer, customers are enjoying a chance of getting new car by registering television just after the purchase from any Walton Plaza, distributor outlet or E- plaza across the country.
In addition, customers may get sure cash vouchers up to Tk 1 lakh or free products like fridge, television and air conditioner under the offer.
Under this Eid offer, Tania Mesbah, who resides in Mirpur DOHS of the capital and also run a business named Anika Boutiqors in there, purchased TK 49,900 worth 49-inch LED TV at a down payment of TK 10,000 from Kachukhet's Walton Plaza.
And, she registered the TV through sending SMS with name, product's barcode and other details from her personal mobile phone number. Then, she got a return message from Walton with the news of getting a brand new car on the registration of her newly purchased TV.
While expressing reaction, Tania said, "Getting new car on the purchase of TV is unimaginable! I have a dream of becoming a successful women entrepreneur through expanding my present business. I am going to open a beauty Parlour, along with the existing business. To run these business smoothly, I intend to buy a private car at the end of the current year. But what a lucky I am! I got a brand new private car by just buying Walton TV.
This Eid will be my best ever Eid. Thanks to Walton authorities for this initiative."