Sayem Molla, a grocer at Saltha Bazar in Faridpur, has been awarded Tk 10 lakh by Walton for purchasing a refrigerator of the local brand and then registering the product under the company's ongoing offer titled 'Who will be Today's Millionaire.'
Recently, Sayem purchased a Walton brand refrigerator at Tk 21,000 from the company's distributor outlet 'Tamim Electronics' at Saltha Bazar. And then he registered the fridge under the nationwide ongoing Walton Digital Campaign Season 4.' After a while, he received a message of Tk 10 lakh awards from Walton.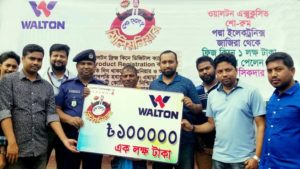 On 25 September of 2019, the company officially handed over a cheque of the award money to Sayem Molla at 'Tamim Electronics.' The cheque giving ceremony was attended, among others, by Md. Nazmul Hossain, convener of Walton Digital Campaign Season 4, Md. Akram Hossain Palash, senior deputy assistant director of Walton Group, Bijoy Kumar Nath, area manager for Faridpur Zone of Walton Distributor Network, Md. Akibul Islam, manager of Walton Service Center's Faridpur branch, Saheb Matubbor, proprietor of Tamim Electronics and some other locals.
While expressing reaction, Sayem Molla said, "It's seems like that I am watching a dream. Few days earlier, I have nothing but homestead land. But now, I am millionaire through purchasing Walton fridge. Thanks to Walton."
Sayem also said that he has been using Walton brand products like ceiling fan, iron, LED television for the last couple of years. Earlier, he purchased a Walton brand refrigerator for his grocery.
He noted that the prices of these Walton products were reasonable and the quality is very good. Thus, he preferred Walton brand refrigerator.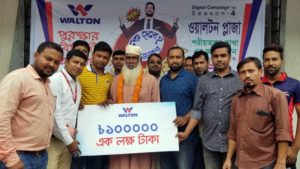 Besides, two more customers of Walton fridge in Shariatpur district got Tk 1 lakh each under the local brand's millionaire offer. Of the awardees, one was Emdad Munshi, a local greengrocer who purchased a Walton refrigerator from Rowza Electronics, a dealer of Shariatpur Walton Plaza. Another was Danesh Sikder, a local farmer who got Tk 1 lakh from Walton through purchasing fridge from the company's exclusive distributor outlet Padma Electronics in Zajira Upazila.
On 26 September of 2019, Shariatpur Walton Plaza handed over the award money to Emdad Munshi. On the same date, the company handed over a cheque to the another awardee Danesh Sikder at Padma Electronics in Zajira Bazar. The events were attended, among others, by Md. Belayet Hossain, officer in-charge of Zajira Police Station, Md. Rifat Hossain, manager of Walton Service Center in Shariatpur, Asifun Nabi, area manager for Madaripur Zone of Walton Sales Network, Gourango Hazra, manager of Shariatpur Walton Plaza and some other locals.
Walton is making customers' database with the aim of providing best after sales services swiftly through online. In this context, they are conducting digital campaign season-4 across the country. Under the campaign, a good number of customers received Tk 10 lakh and Tk lakh, sure cash vouchers and different sorts of Walton products as free through registering their new refrigerators just after the purchase from any Walton Plaza or distributor outlet.