Walton Hi-Tech industries Limited (WHIL) is going to hold a road show for eligible institutional investors on January 15, 2019 as the company intends to go public.
The road show will be held at 6:30 pm at Walton Corporate Office at Bashudhara Residential Area, Plot No: 1088, Block-I, Road No: Sabrina Sobhan 5th Avenue, Vatara in the capital, where eligible institutional investors will get detail information about the company according to the rules of Public Issue 2015 of the Bangladesh Securities and Exchange Commission.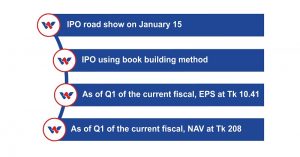 The electronics manufacturer aims at collecting Tk 1 billion from the capital market through initial public offering using the book building method for conducting the activities of factory's expansion, modernization, research and development, repaying partial bank loans and meeting IPO expenses.
As of July to September of the current fiscal year 2018-19, the company registered its EPS (Earning Per Share) and NAV (Net Asset Value) at Tk 10.41 and Tk 208 respectively. Currently, the authorized and paid up capital of the company are Tk 600 crores and Tk 300 crores respectively.
AAA Finance and Investment Limited has been appointed as manager to the issue of the company and Prime Bank Investment Limited has been appointed as registrar to the issue of the company.
Md Yakub Ali, company secretary of Walton, said, Bangladesh is now a successful model in terms of hi-tech products manufacturing in the world. It turned into the customer's top brand and secured the highest credit rating standard 'AAA', he added.
Inviting the eligible institutional investors to the IPO road show, he said, Walton is playing a remarkable role in the national GDP growth rate, employment creation, foreign currencies earnings and savings, uses of green technology based and spread of sports.
Abul Bashar Hawlader, chief financial officer and executive director of Walton, said, Walton is a full-fledged innovative designs' electronics and electrical appliances manufacturer. It has been established as the customers' trusted brand, saying it he noted that the brand is now working with the aim of becoming the global player by 2021.
Uday Hakim, deputy executive director of Walton, said, Walton prepared a road map to be the best global player. To this extent, the company organized international seminar, informing it he said, they are manufacturing world-class products conforming to the local climates of the importing countries.
Walton is participating in the world's prestigious competition and well-recognized largest international fairs in different countries, he added.
A road show is a requirement under the book building regulations before price discovery. Book building is a process through which an issuer attempts to determine the price to offer for its security based on demand from institutional investors.
Eligible institutional investors like merchant bankers, asset management companies, stock dealers, banks, mutual funds and collective investment scheme, financial institutions, insurance companies, alternative investment fund managers and other institutions as per approved by the commission will participate in the event.