Shohoz, the fastest growing startup has partnered with BRAC world's biggest NGO and has organized a road safety and defensive training session for motorcyclist, from May 12 to May 15 on BRAC Road Safety Training at Ashkona BLC (near Hajj camp). In irder to ensure international road safety standard, the riders were trained through BRAC Shurakkha program. This was the first-time road safety training for drivers organized by a ride sharing organization.
Regarding it, Maliha M Quadir, Managing Director, Shohoz said "As the leading ride sharing entity, it is our duty to contribute for ensuring road safety. We are pleased to organize this training session through BRAC Shurakkha program. The riders play an important role in urban transport system but also become victims in traffic congestion and road crashes.
So, it is very important to train the riders on defensive driving and urge them to obey traffic rules. Every rider is contributing in the economy as an entrepreneur. Moreover, if they are trained properly it will have a bigger impact in improving road safety and reduce road crashes in the country."
Meanwhile, the training had provided institution-based training for motorcycle riders, in the country. It focused to sensitize the participants on road safety and defensive driving. During training, the riders were trained such that they will maintain road safety rules, demonstrate positive attitude and behavior towards safe and defensive driving. Several videos and critical situations were presented and analyzed in an interactive way with the participants to change their attitude towards safe motorcycle riding. The training also demonstrated how safe driving can reduce the fuel consumption, repair and maintenance to 30 percent.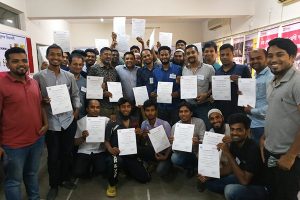 Road safety and defensive driving training materials are developed with technical support of the Delhi-based Indo-Austrian organization Hubert Ebner (HE)-India Pvt. Ltd. HE has over 30 years of experience in Europe and Asia as a driver training and road safety organization. BRAC driving school had customized their training for the Shohoz motor cycle riders.
Moreover, the participants were sensitized so that they will maintain safe driving rules, demonstrate positive attitude and behavior towards defensive and safe driving, which will play a vital role to reduce road crashes and transportation cost. To assess the improvement of knowledge, the participants were put through a classroom-based pre and post-training evaluation using UK Driving Standard Authority's (DSA) training assessment materials. The assessment would be translated in Bangla for the ease of the riders. Furthermore, the participants had been awarded certificates.
Furthermore, the defensive driving training had taught the riders ways to save up to 30% in fuel and repair and maintenance cost. After the training, 90% riders would show safe and defensive driving behavior, 95% riders would maintain a safe following distance, and over 90% of riders would be aware of the speed limit and consequences of over speeding. Certificates from BRAC and BRTA have been awarded to all participants.