"Our focus should be on building a knowledge-based society in the wake of the 4th industrial revolution." – Hon'ble State Minister for ICT Division, Mr. Zunaid Ahmed Palak MP quoted these after delivering certificates to 75 participants on the last day of the National Startup Camp of "Student to Startup: Chapter 2" at Sheikh Hasina National Youth Development Center in Savar on Saturday night.
Hon'ble State Minister for ICT Division said, "The people of every generation of our country would be talented and technologically dependent. The benefits of digital Bangladesh will get equally to everyone, like- rich and poor, city and village people and we need many products to build our dream "Digital Bangladesh". In the absence of a harvestman, our farmers do not get the value of the crops they produce. Don't you think that our educated youth with their Harvester machine can assist with automatic harvesting and harvesting of paddy and packaging with automatic harvesting technology?"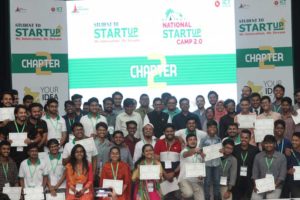 We have entered the fourth industrial revolution, where every day is changing, every moment is changing. Robot is doing work of Human, artificial intelligence is doing work of Human. So now, we have to look at a more knowledge-based society and focus on research. This year, Our Hon'ble Prime Minister of Bangladesh, Sheikh Hasina, gave a special allocation of BDT 100 crore for the startups in this budget at the first time.
At the end of the speech, the state minister said, you already know that the birth anniversary celebration of the Father of the Nation Bangabandhu Sheikh Mujibur Rahman will be organized in 2020-21. During this MujibBarsho, we will work at least 100 hours extra. We want to create a new ecosystem for startup. Shakib Al-Hasan has come from BKSP, another Shakib Al Hasan of the ICT sector will come out in the future what we expect ".
The top 30 startups were selected by pitching on Saturday after a three-day national startup camp. Next, the top 10 startups will be selected by the iDEA Project selection committee and each of them will receive a grant of Tk 10 lakh as 'Bangabandhu Innovation Grant'. 20 more startups as runner-up also selected for grooming to make them matured. After completion of grooming, if the startup meet the targeted improvement then the matured startups will also be funded.
Through an inauguration ceremony, the contest started its journey on 15 September 2019 at ICT Tower, Agargaon, Dhaka. The promotional campaigns were organized in more than 100 academic academic institutes of the country and students registered through online registration process at the contest. About 2500 Startups submitted their ideas at the contest and then 75 startups has been selected preliminarily from university campus pitching round from 24 venues of 8 Divisions and later invited to attend the National Startup Camp. This time, more than 200 students of 75 startups have been participated in the national camp.
Project Director (Joint-Secretary) of iDEA Project Syed Mojibul Huq, Deputy Project Director of iDEA Project Kazi Hosna Ara, Coordinator of CRI Mr. Tonmoy Ahmed, Co-ordinator of Student to Startup program Mr. Ashikur Rahman Rupok and The Government officials of ICT Division and its different wings, Campus ambassadors of 'Young Bangla' were also attended at the time of certificate giving porgram.
Innovation Design and Entrepreneurship Academy (iDEA) project of Bangladesh Computer Council under the Information and Communication Technology Division (ICTD) is organising this initiative in association with the leading youth platform 'Young Bangla' under 'Centre for Research and Information (CRI) for the second time.
Details of iDEA project will be available into Startup Bangladesh website as follows-  www.startupbangladesh.gov.bd .