Kawasaki motorcycles, world famous premium motorcycle brand, Made in Japan, has inaugurated its first state-of-the-art flagship showroom & service center in Eskaton of the capital city of Dhaka on Thursday.
Arman Rashid, Director; Md Kamruzzaman, CFO; Safat Ishtiaq, Operations Manager of Kawasaki Bangladesh – opened the new showroom in the presence of popular faces of motorcycle industry and excited customers.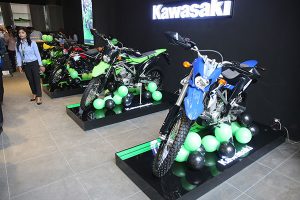 Through this exclusive showroom, Kawasaki, will offer a wide range of premium motorcycles Made in Japan. Kawasaki motorcycles which are often described as being "different than other bikes" will ensure high-built quality and performance. Asian Motorbikes Limited is the official distributor of Kawasaki Motorcycles in Bangladesh since 2018.