Today Pre-Budget Meeting of FY 2019-20 took place at National Board of Revenue (NBR). APEX ICT Trade Body BASIS and related trade bodies were invited at the meeting. NBR Chairman Mosharraf Hossain Bhuiyan, ndc presided over the meeting.
On behalf of BASIS, Vice President (Finance) Mushfiqur Rahman presented the budget proposal FY 2019-20. At the beginning he thanked NBR for endorsing 11 software companies for VAT software. At the budget proposal BASIS Vice President (Finance) said, for IT (Information Technology)/ ITES (Information Technology Enabled Services) companies Corporate Tax have been exempted up to 2024. But while collecting Tax exemption certificate every year companies have to face difficulties and also it takes up to 2-3 months to get the certificate.
Hence, BASIS requested to issue Tax Exemption Certificate for the whole period up to 2024. BASIS will provide endorsement letter every year regarding whether the company is functioning or not.
Bangladesh's ICT Sector has showcased immense growth. New services are adding up every day. BASIS requested NBR to add new services i.e. System Integration, Platform as a service/Cloud service, Software as a service, IT Training, Annual Software Maintenance Contacts (AMC), Information System/ Information technology/ CIS/ ID Assessment/ Audit Services in the definition of ITES. Also, for Software Import through e-Delivery BASIS requested NBR to start a new HSCode.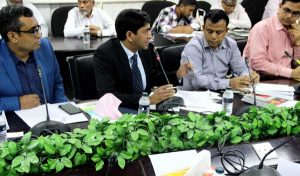 BASIS proposed NBR to regulate Digital Marketing Payment System, Banking & Payment Channel in a fluid way. The process of monitoring has been proposed in BASIS Digital Marketing Payment Proposal.
NBR Chairman listened to BASIS proposals carefully. At the beginning he said, BASIS should encourage software companies to participate at the VAT automation project.
In response of BASIS proposals NBR chairman assured to issue the Tax Exemption Certificate for at least 3 years at a time primarily instead of 1 year only.
Regarding inclusion of some new services in the definition of ITES, NBR chairman asked BASIS to submit a complete definition of ITES to NBR vetted by the ICT Division. Also NBR chairman has agreed on the issue of implementing Digital Marketing Payment Policy. He assured that, NBR will go through the proposal and after vetting will implement the policy.
N.B. Detailed Budget Proposal (FY 2019-20) of BASIS.