Huawei has signed a 5G MoU with Telecom Cambodia recently. Prime Minister of the Kingdom of Cambodia, Samdech Techo Hun Sen the MoU with Mr. Li Jin'ge, Huawei's Vice President in Beijing. The two had in-depth exchanges about development of Cambodia's digital economy and digital transformation.
Witnessed by Prime Minister Hun Sen and Huawei Vice President Mr. Li Jin'ge, H.E. Sok Puthyvuth, chairman of Telecom Cambodia and Mr. Li Xiongwei, CEO of Huawei Technologies (Cambodia) Co., Ltd. signed the Memorandum of Understanding on 5G cooperation in Cambodia. According to the MoU, the two sides will join hands together for creating a good ecosystem for Cambodia's 5G development and help Cambodia become a 5G pioneer in the ASEAN region.
Mr. Li Jin'ge congratulated the new Royal Government for its remarkable achievements in all sectors in the past half year. With its rapid social and economic development, Cambodia stands out a pioneer among its peers in Southeast Asia in economic performance.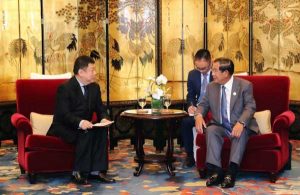 According to Mr. Li, Huawei started its operation in Cambodia in 1999, and this year marks its 20th anniversary of Huawei Cambodia. Huawei is sincerely grateful for the long-term support and guidance from Prime Minister and the government, and is quite honored to witness and participate in the development of Cambodia's ICT industry. Huawei highly appreciates Prime Minister's profound understanding of the importance of Digital Economy and E-people. Huawei will spare no effort to cultivate more ICT talents and support the fully realization of "Rectangular Strategy" in Cambodia.
Prime Minister Hun Sen said, he attached great importance to Cambodia ICT development. He compared Internet as a digital highway and Cambodia should also emphasize on the development of Internet-related capabilities. Cambodia hopes to make full use of the latest technologies to help Cambodia improve the Internet speed.
In 2018, Huawei sales revenue exceeded $100 billion for the first time, up 19.5% year-on-year, and R&D expenditure accounted for 14.1% of the total annual revenue. Continuous investment in R&D has reinforced Huawei's leadership in products and solutions. Particularly in the 5G field, Huawei has harvested 40 5G commercial contracts worldwide and shipped 70,000 base stations. Its technological maturity is at least 12 months to 18 months ahead of its peers.
Huawei believes that 2019 will be the first year of Cambodia's 5G development. Huawei is willing to bring the latest 5G technology and products, share 5G global practical experience to Cambodia, improve the level of Cambodia's digital infrastructure, build digital Cambodia and brace for the Industrial 4.0 Revolution.
Prime Minister Hun Sen said, "Huawei is already an old good friend, and I am pleased to meet with Huawei people today and witness the MOU signing between Huawei Cambodia and Telecom Cambodia for the 5G cooperation. In the near future, I sincerely wish Cambodia could be among the first batch to launch and use 5G in ASEAN Region."