Apple and Samsung reported slowing smartphone sales in the first quarter of this year, but Chinese tech giant Huawei is bucking the trend in a big way.
Huawei's smartphone shipments surged 50% in the first quarter compared to the same period last year, while Apple iPhone shipments tumbled 30%, according to new data published Tuesday by research firm IDC. Samsung shipments dropped 8% year-on-year.
The new figures show Huawei capturing a 19% share of the global smartphone market, its highest percentage ever. IDC said the Chinese firm is "now within striking distance" of Samsung at the top of the global market, surging past Apple as the world's second-largest smartphone seller.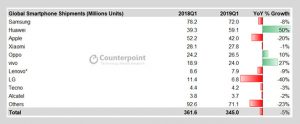 "This new ranking of Samsung, Huawei, and Apple is very likely what we'll see when 2019 is all said and done," IDC Program Vice President Ryan Reith said in the report.
Huawei first surpassed Apple in market share in 2018, but the first quarter's figures show a much wider spread between the two tech giants than previously reported. IDC attributed Huawei's growth to a "well-rounded portfolio targeting all segments from low to high."
According to the data, Huawei sold a whopping 59.1 million smartphone units in the first quarter of 2019, up 50% from the 39.3 million smartphones the company shipped in the same quarter last year. This insane growth, helped along by the fact that both Apple and Samsung's shipments declined, propelled Huawei to the second spot in the list.