Smartphone becomes centre of all public services very soon as the government has focused on innovation in service delivery, Telecommunications Minister Mustafa Jabbar expressed desire.
Minister Mustafa also mentioned the smart phone as most important particle of daily lifestyle while addressing the inauguration of a smart phone fair as chief guest in the capital's Bangabandhu International Conference Centre (BICC) on Thursday. ICT State Minister Zunaid Ahmed Palak is special guest on the occasion.
Techshohor Smart phone and Tab Expo (STE)-2019 hits the capital to bring opportunities for people to buy and experience the latest editions of smart phone and tablet computer under single platform.
Highlighting the growing local market, Minister Mustafa said," The smart phone market in Bangladesh is not only import-oriented. We are moving forward as manufacturing nation. We are not importer, now we are smart phone maker,"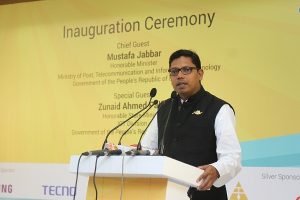 ICT State Minister Zunaid Ahmed Palak said Bangladesh has a growing smart phone market of over 3 crore units.
"The dependency on phone has become increased. There are involvements of smart gadget in every spare of daily life. The demand of the smart phone has been increased due to up gradation of connectivity like fourth generation," Palak said.
Palak also appreciated the expo organizers for contributing in development of smart phone market through mass awareness.
Among others, Huawei Consumer Business Group Bangladesh Marketing Director Eagle Song, Samsung Mobile Bangladesh General Manager Bomin Kim, Transsion Bangladesh Chief Executive Rezwanul Hoque, Vivo Bangladesh Country Project Manager Angus, Aamra Companies Managing Director Syed Farhad Ahmed, Smart Technologies Director Shakib Arafat and Expo Maker Strategic Planner Muhammad Khan were present on the occasion.
Organisers informed that world's renowned and Bangladeshi smart phone and tablet brands will be available in the three-day fair. Meanwhile, mobile brands- Huawei, Samsung, Tecno, Vivo, We, GoldenField, Motorola, Nokia, iPhone, UCC, Infinix, Umidigi, DTel, ADA, Maximums and e-commerce platform Priyoshop.com are in the three-day expo.
The brands have displayed and sold smart devices, according to the organisers. Besides, there are scheduled to uncover some new smart phones at the expo premises. Visitors also can collect the necessary accessories from the fair.
Expo Maker Strategic Planner Muhammad Khan said the participant companies will offer special price cut and gift items during the fair.
There are three platinum sponsors of the fair – Huawei, Samsung and Tecno while Vivo and WE are gold sponsors. Silver sponsors are GoldenField and Motorola and title sponsor is Techshohor.com, leading news portal on technology and telecom issues in the country. Overseas education consulting firm EduMaker has role as partner of the mega event.
There are three platinum sponsor pavilions, two gold sponsor pavilions, two silver sponsor pavilions alongside with six regular pavilions and 4 stalls in the fair. The participant brands will be offer special on the occasion.
The real time news, photo and live streaming are available on official Facebook page of and country's leading technology and telecom news portal Techshohor.com. There has already been started contest on the Facebook page where winners will be get attractive gifts.
The expo arena is open for all from morning 10 am to 8 pm during the fair. An entry fee for the fair is Tk 20 while specially-enabled ones and school-college goers get free access to the expo arena.